Soundarya Lahari Sloka 94
"Kalankaha Kasthooree Rajanikarabimbam Jalamayam
Kalaabhihi Karpoorairmarakathakarandam Nibiditham!
Athasthvadbhogeyna Prathidinamidam Rikthakuharam
Vidhirbhooyo Bhooyo Nibidayathi Noonam Thava Kruthey!"
Literal Meaning:
The dark mark on the moon is musk. The moon's watery disc is an emerald cup fully filled with pieces of camphor in the form of the digits of moon. As and when the contents of that receptacle are exhausted by Thy using them, Brahma, fills it up day by day for Thee with the digits of the waxing moon."
Yantra for Soundarya Lahari Sloka 94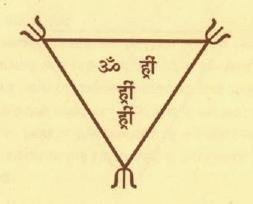 Mode of worship:
Yantra to be made on gold plate or sandal paste. Sit facing East. Chant this sloka 108 (501) times for 45 days in a Devi temple before yantra and a lamp lit with ghee.
Archana:
Chant Lalitha Sahasranamam offering red flowers.
Offerings:
Rice cooked with green-gram pulse, milk-gruel, mangoes and honey.
BENEFICIAL RESULTS:
Getting great renown, moksha (liberation), bright face.
Literal Results:
Ideal sloka for people born during waning moon period. Clears misunderstandings, blames, public scandals etc. Also suitable for reviving closed chapters (business/personal).Face becomes radiant.