Soundarya Lahari Slokas/Yantras 45
"Araalaihi Svaabhaavyaadalikalabhasashreebhiralakaihi
Pareetham They Vakthram Parihasathi Pankeyruharuchim!
Darasmerey Yasmin Dashanaruchikinjalkaruchirey
Sugandhau Maadyanthi Smaradahanachakshurmadhulihaha!"
Literal Meaning:
"Thy face surrounded by curly forelocks beautiful like a swarm of honeybees scoffs at the beauty of lotus flowers. Thy smiling and fragrant face, rendered charming by the brilliance of filmament-like rows of teeth, gives great enjoyment to the honey-beetles that are the eyes of Shiva, the destroyer of Kama-Deva, the God of love."
Yantra for Soundarya Lahari Sloka 45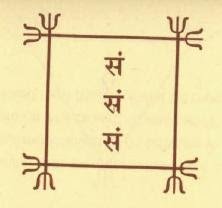 Mode of worship:
Yantra to be made on gold plate. Sit facing East.Chant this sloka 1000 times daily for 45 days.
Archana:
Chant Lalitha Thrishathi offering vermillion.
Offerings:
Cooked rice, scrapings of coconut kernel mixed with ghee and raw sugar; sugarcane, honey and fruits.
BENEFICIAL RESULTS:
Eloquence, foretelling the future, blessings of the eight Goddesses of wealth.
Literal Results: 
Enjoyment of perfumes and good food.