How to offer food to Ganesha?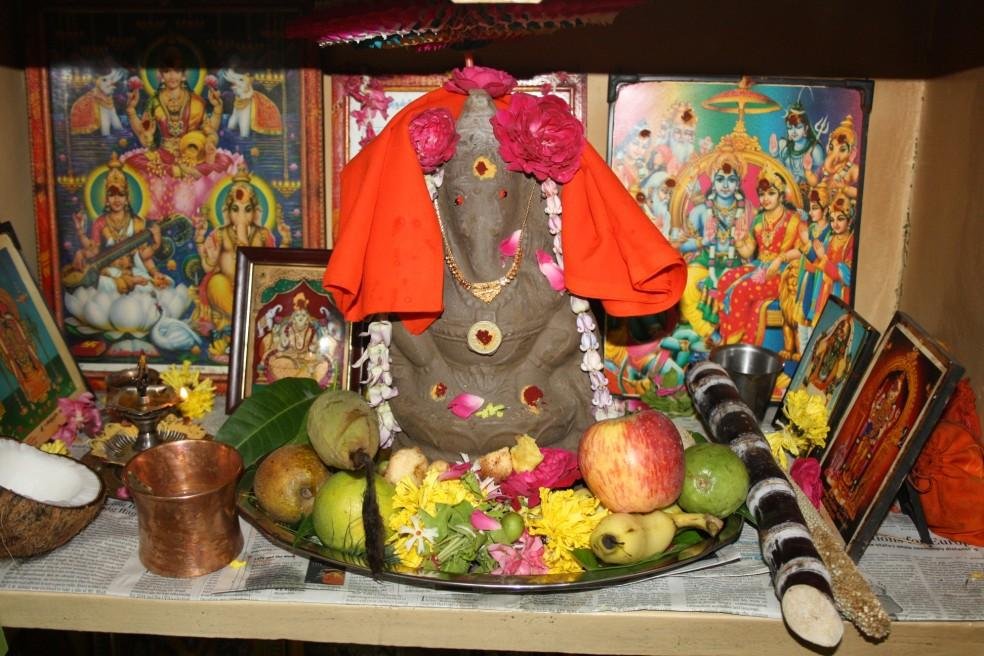 Offering food to Lord Ganesha is a significant ritual in Hindu worship. Here's a step-by-step guide on how to offer food (Naivedyam) to Ganesha:
Prepare the Food:

Prepare the food that you intend to offer to Lord Ganesha. This can include his favorite items like Modak, fruits, sweets, and other vegetarian dishes.

Cleanliness and Purity:

Before you start, ensure you've taken a bath and are wearing clean clothes.
Wash your hands thoroughly and make sure the kitchen and cooking area are clean.

Offering Plate:

Select a clean plate or tray to place the food items for offering. You can also use traditional vessels if you have them.

Light Incense and Diya:

Light incense sticks and a diya (oil lamp) to purify the environment and create a sacred atmosphere.

Recite Prayers:

Before offering the food, recite prayers or mantras dedicated to Lord Ganesha. You can chant the Ganesha Gayatri mantra or any other preferred mantra.

Place the Food:

Carefully arrange the food items on the offering plate or tray. You can use separate small bowls for each type of food.

Invoke Lord Ganesha:

Mentally or verbally invite Lord Ganesha to accept your offering. Visualize his presence and feel his divine grace.

Wave Aarti:

Light an incense stick or camphor, and gently wave it around the food items as a symbol of offering the light of devotion.

Chant Mantras:

While holding the diya or incense, chant the Ganesha mantra or any other prayers that resonate with you.

Express Devotion:

Speak to Lord Ganesha in your heart, expressing your love, devotion, and gratitude as you offer the food.

Mentally Offer:

Mentally offer the food to Lord Ganesha with utmost sincerity and reverence.

Share the Offering:

After a few moments of offering, you can distribute the food as Prasad among family members, friends, and devotees.

Consume as Prasad:

After offering to the deity, the food becomes Prasad. Consume the Prasad with reverence, believing it is blessed and divine.

Dispose of the Remains:

If there are any remains of the food, you can either consume them as well or offer them back to the Earth by burying or composting them.
Remember, the key to this ritual is devotion, love, and a sense of gratitude towards Lord Ganesha. It's more about the intention behind the offering rather than the physical act itself.