Wholesome Ulundhu Kozhukattai Recipe | Nourishing Delight for Ganesh Chaturthi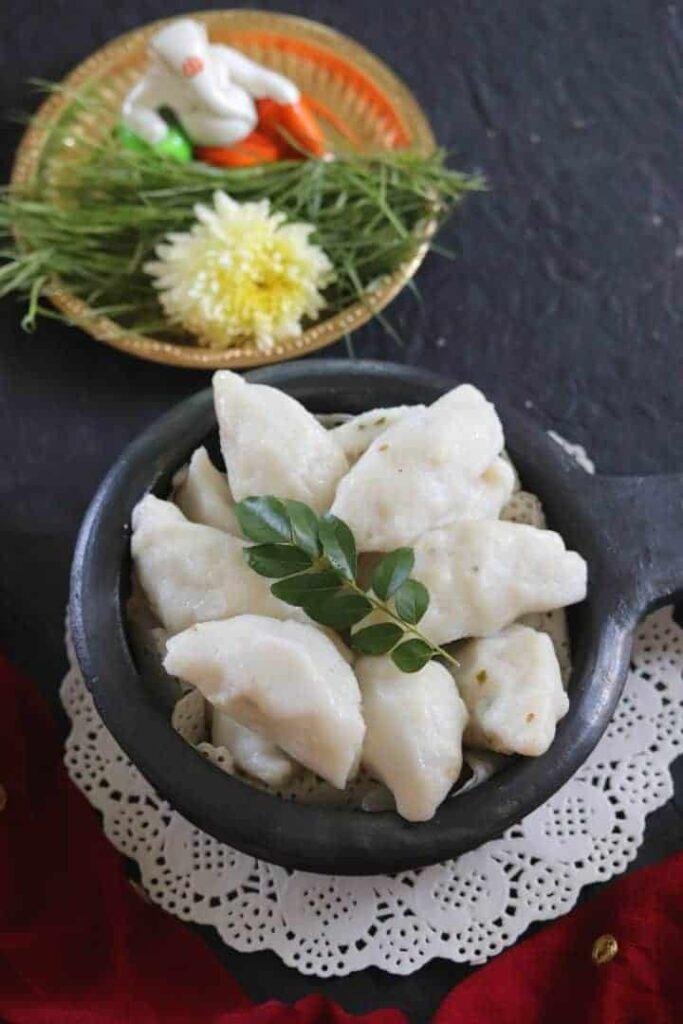 Ganesh Chaturthi is a time of devotion and culinary delights, where devotees come together to honor Lord Ganesha. One such delectable offering is Ulundhu Kozhukattai, made from black gram lentils that symbolize nourishment and wholesomeness. These steamed dumplings, often filled with a mixture of lentils and spices, hold a special place in the hearts of devotees. Join us as we share the secret recipe to create Ulundhu Kozhukattai and celebrate the joy of this auspicious festival.
Ingredients:
For the Outer Dough:
1 cup rice flour
A pinch of salt
Water as needed
1 teaspoon sesame oil
For the Filling:
1/2 cup urad dal (black gram lentils), soaked
1/4 cup grated coconut
2-3 green chilies, finely chopped
A few curry leaves, chopped
1/2 teaspoon mustard seeds
1/2 teaspoon cumin seeds
A pinch of asafoetida (hing)
Salt to taste
Instructions:
Preparing the Filling:

Drain the soaked urad dal and grind it into a coarse paste without adding too much water.
In a pan, heat a teaspoon of oil. Add mustard seeds and cumin seeds. Once they splutter, add asafoetida and curry leaves.
Add the ground urad dal paste and sauté until it's cooked and dry.
Mix in grated coconut, chopped green chilies, and salt. Cook for another minute. Remove from heat and let it cool.

Preparing the Dough:

In a saucepan, bring water to a boil along with a pinch of salt and a teaspoon of sesame oil.
Gradually add rice flour to the boiling water while stirring continuously. Mix until the dough comes together and forms a smooth ball.

Shaping the Kozhukattai:

While the dough is still warm, knead it gently to make it smooth.
Take a small portion of the dough and shape it into a ball. Flatten it between your palms to form a small cup-like shape.
Place a spoonful of the prepared urad dal filling inside the dough cup.

Closing the Kozhukattai:

Pinch the edges of the dough cup to seal the filling inside. Gently press and shape the top to resemble a Kozhukattai.

Steaming the Kozhukattai:

Grease a steamer plate with a little oil to prevent sticking.
Place the shaped Kozhukattai on the greased plate and steam them for about 10-12 minutes until they become glossy and translucent.

Offering and Sharing:

Offer the nourishing Ulundhu Kozhukattai to Lord Ganesha as a symbol of devotion and reverence.
Share this wholesome treat with family and friends, spreading the joy and blessings of the festival.
With our Ulundhu Kozhukattai recipe, you can embrace the spirit of Ganesh Chaturthi by offering a nourishing and delicious treat to Lord Ganesha. These steamed lentil dumplings, made with care and devotion, reflect the essence of the festival in their wholesome flavors. As you partake in the joy of making and sharing Ulundhu Kozhukattai, may you also receive the blessings and positivity that this auspicious occasion brings.