Darshan and Puja Timings at Tiruchendur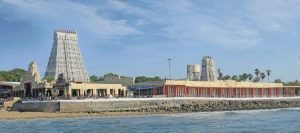 Tiruchendur Murugan Temple is one of the most famous shrines dedicated to Lord Muruga or Subrahmanya in Tamil Nadu. The Tiruchendur Temple timings is given below in detail. Note that the opening and closing time and puja timings are different and extended during Vishaka and Karthigai Nakshatra and Sashti days. Special darshan timings during Kanda Sasti.
Temple Timings
The poojas in this temple are performed as per the Kumara Thandiram Murai. Nine pooja kalams are observed daily. Temple will be opened from 5.00 am till 9.00 pm.
| | | |
| --- | --- | --- |
| Period | Time | Pooja Detail |
| Morning | 5.10 AM | Subrapadam – Thirupalli Eluchi |
| Morning | 5.30 AM | Viswaroopam Darshan |
| Morning | 5.45 AM | Dwajasthamba Namaskaram |
| Morning | 6.15 AM | Udaya Marthanda Abishegam |
| Morning | 7.00 AM | Udaya Marthanda Deeparadhanai |
| Morning | 8.00 AM to 8.30 AM | Kalasandhi Pooja |
| Morning | 10.00 AM | Kalasha Pooja |
| Morning | 10.30 AM | Uchikala Abishegam |
| Noon | 12.00 PM | Uchikala Deeparadhanai |
| Evening | 5.00 PM | Sayaratchai Pooja |
| Night | 7.15 PM | Arthasama Abishegam |
| Night | 8.15 PM | Arthasama Pooja |
| Night | 8.30 PM | Ekanda Seva |
| Night | 8.45 PM | Ragasia Deeparadhanai, Palliarai Pooja |
| Night | 9.00 PM | Nadai Thirukappiduthal |