Ladies who suffering from infertility problem can chant the following Soundarya Lahari Stotram to get pregnant.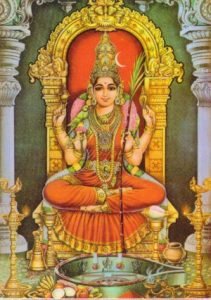 Soundarya Slokam:
கதா காலேமாத: கதய கலிதாலக்த கரசம்
பிபேயம் வித்யார்த்தீ தவசரண நிர்ணே ஜன ஜலம் !
ப்ரக்ருத்யா மூகானம்பி ச கவிதா காரண தயா
கதா தந்தே வாணீ – முககமல தாம்பூலா ஸதாம்.
How to Recite:
Recite this mantra in morning.
Sit in a position facing north direction.
Offer Honey to Goddess as Neivedhyam.
Recite the sloka as much you can.
Most important thing is that you must do this pooja with trust and faith in god.