Wholesome Wheat Flour Appam Recipe for Ganesh Chaturthi
Ganesh Chaturthi is a time of devotion, traditions, and delightful treats. Among the many offerings, Wheat Flour Appam holds a special place. These soft and spongy dumplings, made from wheat flour and jaggery, are a symbol of devotion and love. Join us as we share the secret recipe to create these wholesome appams that bring warmth and blessings to your festive celebrations.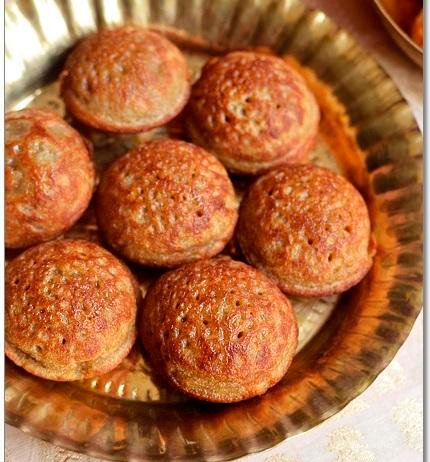 Ingredients:
1 cup wheat flour
1/2 cup jaggery, grated or powdered
1/4 cup grated coconut
1/2 teaspoon cardamom powder
A pinch of baking soda
A pinch of salt
Ghee or oil for frying
Water as needed
Instructions:
Preparing the Batter:

In a mixing bowl, combine wheat flour, grated jaggery, grated coconut, cardamom powder, and a pinch of salt.
Gradually add water while stirring to form a smooth batter. The consistency should be similar to pancake batter.

Adding Baking Soda:

Just before making the appams, add a pinch of baking soda to the batter and mix gently. This will help the appams become soft and spongy.

Heating the Appam Pan:

Heat an appam pan (paniyaram pan) over low-medium heat.
Add a few drops of ghee or oil into each cavity of the pan.

Pouring the Batter:

Once the pan is heated, pour a spoonful of batter into each cavity, filling them up to 3/4th full.

Cooking the Appams:

Cover the pan with a lid and let the appams cook on low heat. This allows them to cook evenly.

Flipping the Appams:

After a couple of minutes, gently flip each appam using a skewer or fork. Cook until both sides are golden brown and cooked through.

Serve and Enjoy:

Remove the Wheat Flour Appams from the pan and place them on a plate lined with paper towels to absorb excess ghee or oil.

Offering and Sharing:

Offer the warm and spongy appams to Lord Ganesha as a token of your devotion.
Share these wholesome treats with family and friends, spreading the joy and blessings of the festival.
With our Wheat Flour Appam recipe, you can bring the spirit of devotion and celebration to your Ganesh Chaturthi festivities. These soft, spongy, and mildly sweet appams, made from wholesome ingredients, are a delightful offering that reflects the love and reverence for Lord Ganesha. As you prepare and share these appams, may they fill your home with warmth, positivity, and the blessings of this auspicious occasion.