Thirunageswaram, Sri Naganathaswamy Temple is popularly known as Rahu Sthalam which is 6 Kms away from Kumbakonam.
People who have planetary effects of Rahu in their life are should visit Thirunageswaram Rahu Sthalam atlease once in a year to obtain blessings from the deities of the Temple.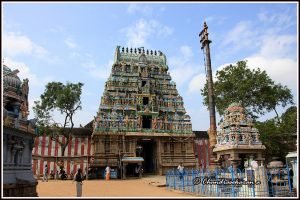 Those who have Sarpa Dosha, Rahu Dasha and Rahu Bhukthi effects are also advised to visit Sri Sri Naganathaswamy Temple to less down the bad effects of the planet. Those people are advised to do Milk Abhishekam (Paalabishekam) for Rahu Bhagavan.
During Milk abishekam, When milk is poured to the Deity (Rahu Bhagavan), It turns into Blue Colour. It is the most important aspect of Thirunageswaram Rahu Temple.
Okay, Let get know How to Reach Thirunageswaram Sri Naganathaswamy Temple from Kumbakonam.
Kumbakonam to Thirunageswaram Temple:
Lot of Buses are available from Kumbakonam to Thirunageswaram for every 20 mins at Kumbakonam Town Bus Stand.
Bus will drop you exactly at the temple entrance.
Time takes to reach Thirunageshwaram is about 15-20 mins only. (By Bus)
Also Autos are frequently available.
To know Thirunageshwaram Rahu Temple Timings Click Here